What Can Fit Inside a 2018 FIAT 500? What Can Fit On Top a 2018 FIAT 500?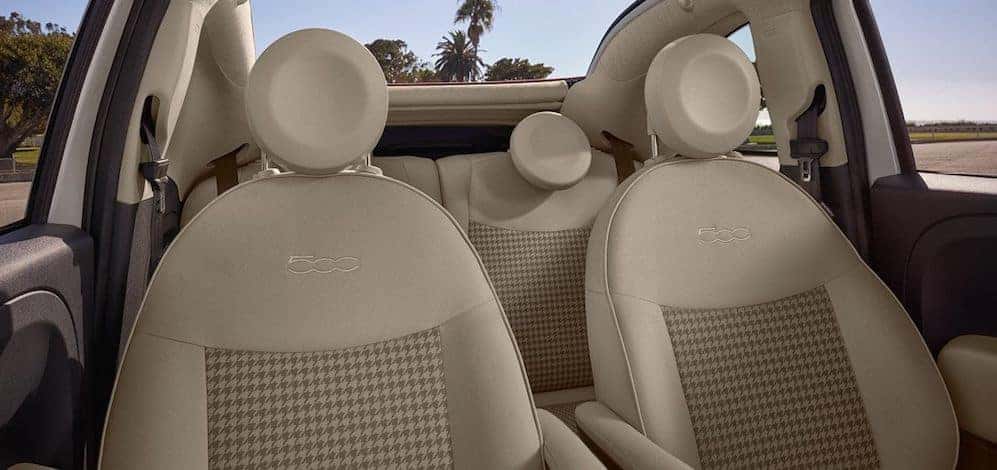 FIAT models like the 2018 FIAT 500 are known for their bite-sized dimensions and stylish looks, but Olympia and Lakewood drivers may be surprised to see just how much you can fit into a FIAT 500 interior. The 2018 FIAT 500 offers an interior volume of 121.1 cubic feet, as well as 22.4 cubic feet of dedicated cargo space and a max cargo volume of 68.0 cubic feet. So, what can fit inside a FIAT 500? Take a look with FIAT of Tacoma.
What Can Fit Inside a FIAT 500?
5 adult passengers
3 large dogs
2-3 bicycles
All of your holiday presents
Dozens of bags of mulch for lawn maintenance
10-foot long 2x4s
More than enough Tacoma Mall shopping bags
The whole family's skateboards and scooters
Several suitcases!
What Can Fit on Top of a FIAT?
Sure, you may need more room for storage. Don't sweat it! The FIAT 500 allows for a handful of exterior rooftop cargo solutions. Such exterior cargo options include:
Roof rack hard cargo box
Roof rack soft cargo bag
Roof rack basket
Roof rack net
Roof rack bike carrier
Roof rack water sports cargo carrier
Roof rack tire carriers
Step Inside a FIAT Near University Place at FIAT of Tacoma!
Interested in getting a closer look at the FIAT 500 interior? Simply take the drive from University Place to our dealership in Tacoma, WA, for a better look. Find out more about culture highlights in the area by following our blog, too, including information about the Museum of Glass. Our dealership is open seven days a week, and you can reach us online today.
---
Related Posts about the FIAT 500
Sure, the 2019 FIAT 500 delivers classic European style and solid MPG ratings, but how much does the new FIAT 500 cost? The MSRP of the 2019 version starts from just $16,495. Of course, the price is variable upon which configuration of the 2019 FIAT 500 you choose. Olympia drivers: Explore the new FIAT 500 price options…

FIAT models like the 2018 FIAT 500 are known for their bite-sized dimensions and stylish looks, but Olympia and Lakewood drivers may be surprised to see just how much you can fit into a FIAT 500 interior. The 2018 FIAT 500 offers an interior volume of 121.1 cubic feet, as well as 22.4 cubic feet…

With an accessible starting MSRP from only $16,495, the 2019 FIAT 500 offers impressive performance specs, but these performance specs don't compromise fuel efficiency. Take a closer look at the estimated FIAT 500 MPG ratings here at FIAT of Tacoma—Seattle drivers will definitely be impressed. Compare the FIAT Further Have Any Questions? FIAT 500 MPG Ratings by…