Museum of Glass FAQs and Facts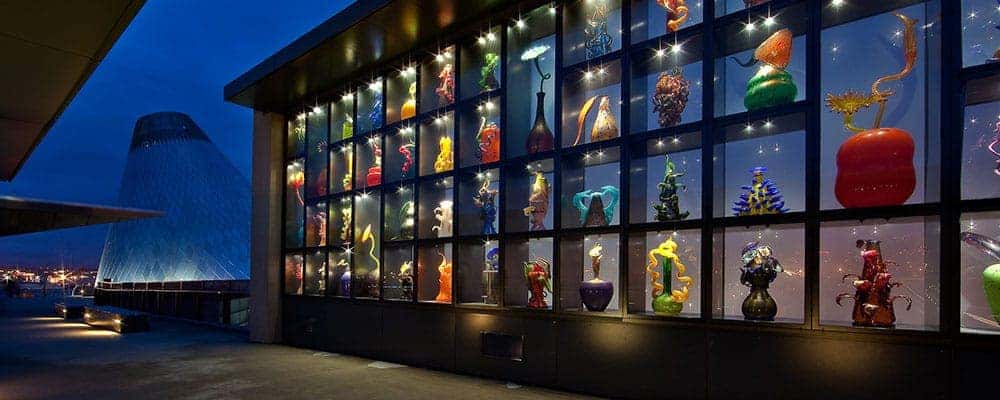 The Museum of Glass in Tacoma is a permanent art museum, just a short drive from Seattle. Its focus? The creation, display, and education about all things glass art. Let the locals at FIAT of Tacoma answer all your burning questions about the Museum of Glass here.
Museum of Glass in Tacoma, WA
The museum has become an anchor for the arts and culture center, with a thriving community that includes six museums, shops, restaurants, and a variety of other businesses. Visitors to the Museum of Glass can:
Explore the Permanent Collection: Within the main building is the permanent collection featuring production glass of the 19th and early 20th centuries, as well as studio glass of the late 20th Century, contemporary glass of the 21st Century, works by visiting artists, and works from the Community Collection – Kids Design Class.
The Hot Shop: The resident artists create works live in the Hot Shop, allowing visitors to experience the triumph and tragedy, of art glass creation as it happens.
Exhibitions: Permanent and rotating collections allow visitors to enjoy creations by resident artist Dale Chihuly, as well as other glass artists from around the world.
Hands-On Opportunities: Visitors from Olympia can learn how to craft their own glass works here! From blown glass to mosaics, Olympia artists can explore the precision required to produce these stunning creations.
If the fragile beauty of glass art is for you, then the Tacoma Museum is well worth the drive from Lakewood.
Where? 1801 Dock Street, Tacoma, WA
When? 10:00 AM – 5:00 PM, Wednesday – Saturday
 12:00 PM – 5:00 PM, Sunday
How Much?
Adults: $17
Senior/Student/Military: $14
Children 6-12: $5
Children Under 6: Free
Free Admission Every 3rd Thursday, 5:00 PM – 8:00 PM
Chihuly Bridge of Glass in Tacoma
If you're still interested in glassworks, we recommend checking out the Chihuly Bridge of Glass! The 500-foot pedestrian bridge links the Thea Foss Waterway to the Museum of Glass. It's home to three separate Dale Chihuly exhibits:
The Seaform Pavilion: The ceiling of the pavilion is made of more than 2,000 glass objects arranged to resemble a coral reef catching the light of the sun and reflecting it onto visitors below.
The Crystal Towers: In the middle of the bridge, two translucent blue crystal towers rise, reflecting the light of day and acting as conduits for the light below at night.
Venetian Wall 109: A massive 8-foot long wall holds blown glass art, including some of the largest ever created, with sculptures that range from simple and elegant, to those truly out of this world.
Explore Tacoma Further with the Locals at FIAT of Tacoma!
Whether you're interested in learning more about Mount Rainier, or you're looking to learn more about the FIAT mark, we're here for you. Want to hear more recommendations in the area, or explore our inventory? Contact us today.
Top image courtesy of www.museumofglass.org/
Related Posts from FIAT of Tacoma
The new FIAT 124 Spider harkens back to the era of the classic roadster. This sleek and stylish car will allow you to reminisce on a bygone automotive era while enjoying all of the latest tech and convenience features. Each of the FIAT Spider trim levels offers something unique to drivers and are sure to…

Sure, the 2019 FIAT 500 delivers classic European style and solid MPG ratings, but how much does the new FIAT 500 cost? The MSRP of the 2019 version starts from just $16,495. Of course, the price is variable upon which configuration of the 2019 FIAT 500 you choose. Olympia drivers: Explore the new FIAT 500 price options…

Believe it or not, you can't simply sleep, breathe, and eat Fiat vehicles—especially that last one. Among the non-car-related subjects that come up at FIAT of Tacoma, food is by far the most popular, especially Mexican restaurants. If you're looking for the very best tacos near Seattle or the tastiest burritos near Olympia, we've got quite a…