Mount Rainier Facts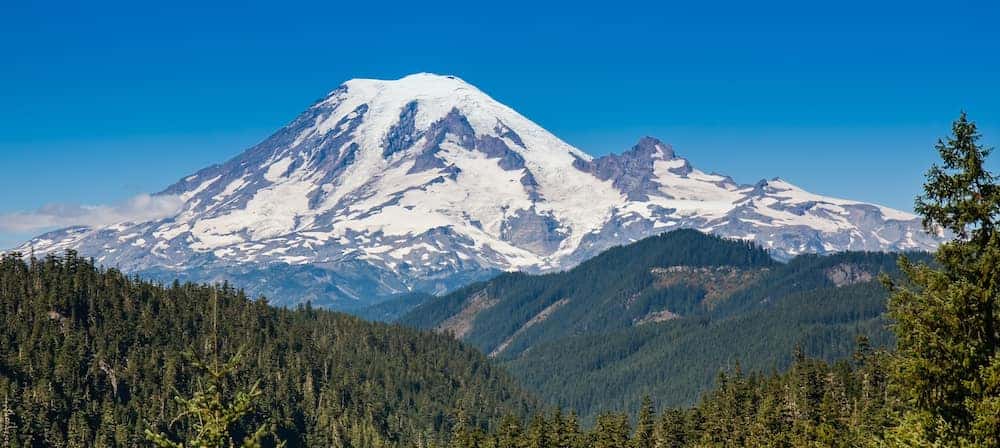 One of the most prominent and impressive landmarks in the state of Washington if not the entire Pacific Northwest, Mount Rainier towers majestically over the Cascade Range. Located just a little more than 42 miles from Tacoma, Mount Rainier is recognizable to everyone who lives in the region, however there are a number of interesting facts about this peak that many Washingtonians may not be aware of. Here at FIAT of Tacoma we've collected some of the most intriguing facts to help you better understand this iconic mountain.
Essential Mount Rainier Facts
Where is Mount Rainier? – In west-central Washington state, in the Mount Rainier National Park, 59 miles south-southeast of Seattle.
How High is Mount Rainier? – It is the highest mountain in Washington, with a summit elevation of 14,411 feet.
Is it an Active Volcano? – Yes, it is an active volcano, and is considered one of the world's most dangerous due to the extensive glacial ice at the peak.
When Did it Last Erupt? – The last time Mount Rainier erupted was between November and December of 1894.
How Did it Get its Name? – George Vancouver named the mountain after his friend Rear Admiral Peter Rainier in 1792, and the name was made official by the U.S. Board on Geographic Names in 1890. Local Native American tribes such as the Nisqually, Puyallup, Squaxin Island, Muckleshoot, Yakama, and Cowlitz referred to the mountain as Takoma, Tahoma, Tacobeh, or Pooskaus.
Who was the First to Climb Mount Rainier? – Hazard Stevens and P.B. Van Trump were the first to ascend the mountain. They accomplished this feat in 1870.
When was the Mount Rainier National Park Established? – Mount Rainier became the fifth national park in the U.S. in 1899.
Visiting Mount Rainier National Park
When is the Park Open? – Mount Rainier National Park is open year-round. To confirm road conditions and operating hours of the various visitors centers call 1-360-569-2211.
How Much Does it Cost to Enter the Park? – The single vehicle fee is $30 and it is good for 7 days. A campground fee is $20 per night. The park also offers an annual pass of $55, a $15 per person walk in fee, and a nightly campground fee of $60 for groups of 25 to 40 people.
Can You Hike on Mount Rainier? – There are a number of hiking trails throughout Mount Rainier National Park, including a portion of the Pacific Crest Trail that enters along the park's eastern boundary. If you plan to camp overnight you are required to get a permit. Mount Rainier itself is not suitable for hiking, as the steep and rugged terrain is reserved for climbers only.
Can I Climb Mount Rainier? – Thousands of people climb Mount Rainier every year, but it is important to be physically prepared for the ascent. Check the park climbing guidelines before planning your trip.
Explore the Tacoma Area
From the Museum of Glass and Seattle Aquarium, to Puget Sound, and the Mount Rainier National Park, there's a lot to do and to see in the Tacoma area. Here at FIAT of Tacoma we're always on the lookout for fun and interesting attractions to recommend to our Olympia and Lakewood customers. If you know of places or events that we need to check out please feel free to contact us.
---
Related Posts from the Locals in Tacoma, WA
One of the most prominent and impressive landmarks in the state of Washington if not the entire Pacific Northwest, Mount Rainier towers majestically over the Cascade Range. Located just a little more than 42 miles from Tacoma, Mount Rainier is recognizable to everyone who lives in the region, however there are a number of interesting…

The Museum of Glass in Tacoma is a permanent art museum, just a short drive from Seattle. Its focus? The creation, display, and education about all things glass art. Let the locals at FIAT of Tacoma answer all your burning questions about the Museum of Glass here. The FIAT Brand Contact Us Seattle Aquarium FAQs Museum of…

After a nearly two-decade absence from the U.S. market, legendary Italian car maker Alfa Romeo Friday named 82 U.S. and four Canadian dealers to sell its cars in North America. Among those 82 is Fiat of Tacoma, which sells cars made by Alfa's parent company, Fiat. Read more here: http://www.thenewstribune.com/2014/06/13/3242156/alfa-romeo-names-tacoma-dealer.html#storylink=cpy Read more here: http://www.thenewstribune.com/2014/06/13/3242156/alfa-romeo-names-tacoma-dealer.html#storylink=cpy Fiat…