How to Check Your Transmission Fluid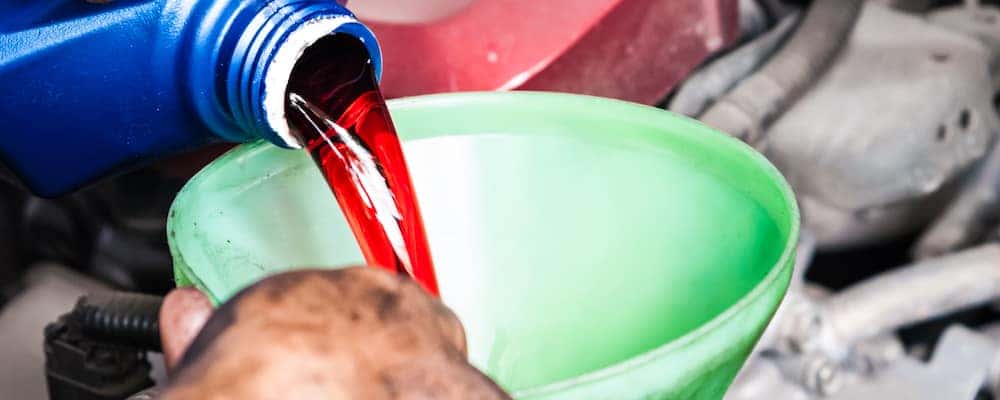 Your transmission is certainly complicated, and they can lead to many questions. Who checks transmission fluid? Are there different types of transmission fluid? Learning how to check your transmission fluid in your new FIAT, Alfa Romeo can help prevent car problems in the future. It's easier than you might think! Just follow the steps below.
Five Steps to Checking Your Transmission Fluid
Start your car and let the engine run to warm up.
Locate the transmission fluid dipstick. If your car has front-wheel drive, look to the right of the oil dipstick. Not there? Check your owner's manual.
After you've removed the dipstick, examine the transmission fluid. It should be nearly transparent with a pink hue. If it looks dirty or smells burnt, it needs to be replaced.
Clean the dipstick with a rag and slide it back into position. Remove it again and check the level. You'll need to add more fluid if the line is below the "full" mark.
Raise the level using a funnel. Be sure not to overfill.
How Often Do You Check Your Transmission Fluid?
Knowing when to check transmission fluid is important to detect any potential or future issues. You'll want to check your car's transmission fluid monthly — and that goes for all main fluids like power steering fluid and engine oil. If you have questions about services and service intervals, check your owner's manual or ask a professional. Making sure to check your transmission fluid regularly can help ensure that you avoid FIAT 500 gearbox issues.
Tips for Replacing Your Transmission Fluid
Keep in mind: your car's transmission is a crucial and complicated machine. Check out these tips before you change the transmission fluid:
There are different types of transmission fluid. Your owner's manual will tell you whether you need manual or automatic transmission fluid.
Does your car have a manual? If so, you'll likely need a jack to reach a plug under the car. In this case, you may want to schedule a visit to our service center near Seattle.
Low transmission fluid can cause your vehicle to hesitate before shifting gears. This could also be an indicator of a more severe problem. If the transmission fluid level is "full," bring your car to us for an inspection.
Transmission fluid should be replaced every 50,000 to 100,000 miles. Of course, this depends on your driving habits and transmission type.
But are there different types of transmission fluid? Of course! It's essential that you're getting the proper type of transmission fluid from our service experts.
Learn More About How to Check Your Transmission Fluid at FIAT of Tacoma
If you have more questions about checking the fluid level in your transmission, how your brakes work, how to replace a fuse, or our parts and service specials, contact FIAT of Tacoma today! Whether you're wondering "are there different types of transmission fluid?" or "do you check transmission fluid with your car running?" then we're here to help!
You're also welcome to visit us near Olympia and Lakewood to ask any questions in person. Need an oil change in your FIAT 500 soon? Find out what type of oil to use and how much it will cost, and learn more about serpentine belts to find out if yours should be replaced during your oil change.
More Service Tips from FIAT of Tacoma
Whether you experience a flat tire or your tire tread has worn down due to trips outside Tacoma limits, you'll want to know how to change a tire. In knowing this bit of automotive trivia, you won't feel stranded on Lakewood roads, in wait for AAA or a friend to help you out. So, read…

Your transmission is certainly complicated, and they can lead to many questions. Who checks transmission fluid? Are there different types of transmission fluid? Learning how to check your transmission fluid in your new FIAT, Alfa Romeo can help prevent car problems in the future. It's easier than you might think! Just follow the steps below. Schedule Service…

FIAT Service Specials Contact Us Wondering how an oil change works on your FIAT 500 or other FIAT model? Ensure you have the appropriate filter and the right type of oil for your FIAT. It's a good idea to check the owner's manual on your FIAT before you order a new oil filter, but…